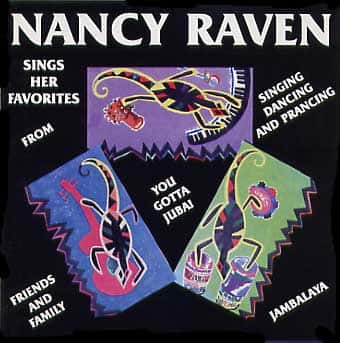 Nancy Raven's
Nancy Raven Sings Her Favorites
Available through CD Baby.
"Television and mass marketing of movie scores have robbed American children of the joy of singing songs from their own rich traditions. Nancy Raven's fine collections of simple folk songs and musical games from around the world are a treasure every child deserves."

Rosemary Richie, Montessori School Teacher for over 20 years and mother of five.
Cast of Characters
Nancy Raven: Production, arrangements, vocals, guitar, percussion
Bob Hobbs: back-up vocals, percussion, sound effects
Lichi Fuentes: Vocals, strings, percussion
Jackie Rago: Percussion, mandolin
Donna Viscuso: Flute, harmonica
Dair Obenshain: Fiddle, bones
Gary Raven: Banjo, back-up vocals, kazoo
Vanessa Whang: Piano and flute
Bradley Williams: Accordion
Rosemary Richie: Duet vocal on "Rabbit's Dance"
David Pontecorvo: Engineer
Bob Farwell: Engineer
Martin Downing Engineer
Bazil Dean: Lizard art
Alan Yoshida: Golden ears for CD remastering, Ocean Way Studios, Hollywood, CA
Nancy Raven Sings Her Favorites
Songs on this CD are:
Mail Myself to You
Don't You Push Me Down
Morningtown Ride
One Little Elephant / Un Elefante
Juba
It Must Be a Dinosaur
Back of the Bus
Rabbit's Dance
Monkey Can Do
Owl's Lullaby
Haunted House
Scary Things
Grillo Julian
Jambalaya
Emma Lou
Greens and Beans
Chopping Cane
African Bread Song
Oats, Peas, Beans
Members of the Family
Flute Song
El Hombre Primitivo
Gonna Keep a Place
Los Chimi-Chimitos