Pinhole photography exhibit exposes Minden resident's passion
by Caryn Haller
Record-Courier
[email protected]
Wednesday, August 8, 2012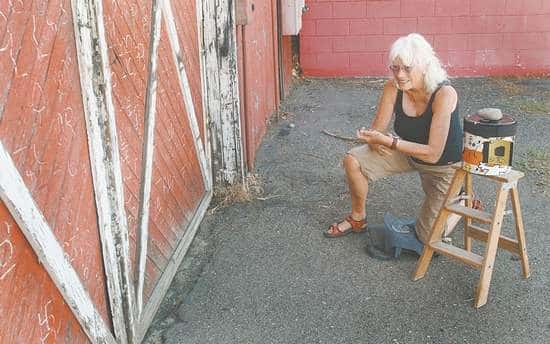 Five years ago, Minden resident Nancy Raven took a pinhole photography class and fell in love with the process.
On Monday, the 83-year-old's pinhole photography exhibit opens 10 a.m. to 5 p.m. at the Carson Valley Arts Council.
I fell in love with the technique and the types of pictures you get from it. They are just really beautiful, Raven said. There's a lot of failure. It's such a chancy medium. I've taken at least 500 to 1,000 photographs over the years, and when you end up with a good print you get very excited.
Raven moved to Carson Valley in 2010 from Monterey, Calif., where she performed children's music for 50 years. She continues performing music part-time during the library's summer reading program and storytime in the park.
I'm basically retired, but I do a lot of art and photography, she said. I've become a gardener here. I've spent a lot of time in the yard doing that and photography.
Instead of using film, pinhole photography uses photographic paper inside a light-proof can or box with a pinhole in it. The camera is then pointed toward the subject and the hole is uncovered for about one to two minutes to get the exposure.
The difficulty is placing the camera right so you get what you want to photograph. You can't put it on a tripod Raven said. There's no instant gratification like you have with digital. You have to quiet down and wait for the process.
Raven develops her own film, and prefers to use large popcorn cans for her cameras because of the look it gives to the photograph.
I have about 13 cans I load up and take out with me. You only get one shot per camera, she said. I find them easy to secure in terms of light. I also like the distortion, everything has a curve to it.
In her exhibit, Raven displays 30 of her photographs, mostly taken in Carson Valley.
There will be a couple small ones of a hotel series I did in Russia, and a couple of the Carson City governor's mansion, she said. I really love what I see here in Carson Valley. I love old ranches, old barns. I love what I find here both in old buildings and scenery.
An artist's reception is 4-7 p.m., Aug. 17 at the arts council where Raven will give a demonstration of pinhole photography and allow guests to see how the cameras work.
I'm really thrilled to have the opportunity to do the work, it's really unusual, Raven said. To have the whole show of pinhole and have the explanation will be nice. I'm grateful to the arts council for letting me do this.
Raven's pinhole photography exhibit runs through Sept. 13. The hours are 10 a.m. to 5 p.m. Monday through Saturday.
The Carson Valley Arts Council is located at 1572 Highway 395. For more information call 782-4119.
Source: Record-Courier