Library hosts Imaginary Camp Out
Sunday, July 15, 2012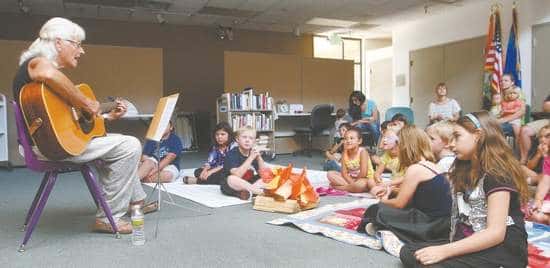 Imagine it's dark outside, the stars are sparkling and you're sitting around the warm glow of a campfire, roasting marshmallows, singing songs and cuddling close for ghost stories.
That is what children did at Douglas County Library's Imaginary Camp Out on Tuesday.
We're using our imagination today, said Carol Nageotte, youth service director of the Douglas County Library.
The library conference room became a campsite for 23 children. The kids sat on blankets around a campfire made of logs and red and yellow tissue paper, while they clapped and sang along to songs sung by Nancy Raven.
[…]
For more information, contact Nageotte at 782-9841.
Source: Sarah Drinkwire, recordcourier.com/article/20120715/COMMUNITY/120719917#